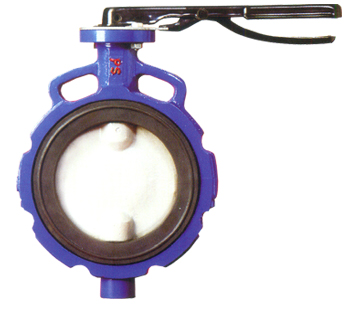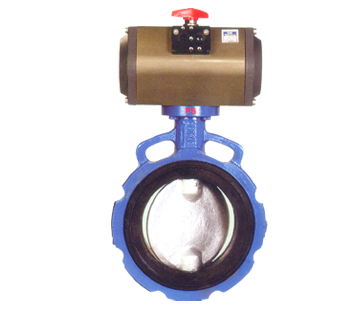 Body
Two piece Design up to 300 mm size & Single piece for sizes above 350 mm, ensuring Max, flow & trouble free replacement of parts.
Disc & Shaft
One piece Investment Cast for sizes up to 100 mm ; & Two piece for sizes 125 mm & above ; Centrically Located to withstand & cope great strain & increased torque.
Seat
Replaceable , completely lining the body throughout the fluid contact part, assuring tightness from both sides of the disc & at the stem passage. Seat is provided with integral "0" Ring thus eliminating the use of gaskets between flanges.
Bearings Bush
Two Lubricated Bearings Bush at the top & bottom ensures low operating torque, making the valves completely maintenance free.
Secondary Sealing
Polyacetal bush with Two "0" rings acts as & bearing, thus further easening opening & closing of valve.
Features
• Valves Suitable for all Applications
• Easy to operate with Lubricated Ferro Bronze/PTFE Bushes
• High Cv values having Low pressure drop
• Wide range selection of Body, Disc & Seat Material
• Integral flange sealing
• zero maintenance
• Compact Design
• Body Lined
Applications
Suitable for Throtting, Regulating on/off service for practically all mediums of flow ; Water, & Chemically treated water, Gases & Vapours, Air, Dust like products, Liquids containing suspended solids, Food, oils, Milk & Food products, Aggressive chemicals, Acids & Crude Oil, & Petrochemical products, Refineries, Fertilisers & Ash handling
Design
P.S. Sleeve lined Wafer Design Butterfly valves Manufactured as per ISO-5752 short & DIN Stds. Valves as per API 609 ; BS-5155, 3952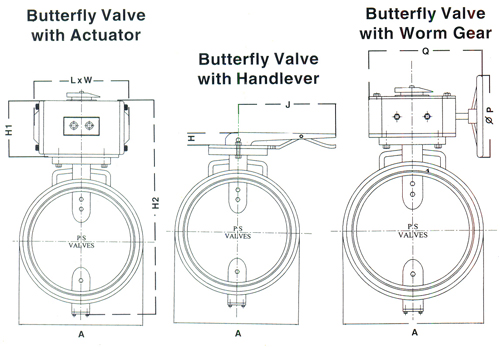 MANUFACTURING RANGE MM : 25-1000
TEST PRESSURES
Kg / cm2
SIZE MM
BODY
SEAT
PNEUMATIC TEST
25 - 300
15
10
6.5
350 - 600
14
6
-
650 - 1000
10
5
-
Mounting
Suitable for fitment between flanges as per IS-1538, BS, ANSI B-16.5 ; Class 150 ibs, DIN PN 10/16 ; API or any other std.
MATERIAL OF CONSTRUCTION
Body & Disc
Graded CI, CS, CF8, CF8M ; Alloy 20 ; Low Carbon Steel
Seat
EPDM; Nitrile; Food graded EPDM; Neoprene; Silicon; Viton, & PTFE.
Coating / Lining
Epoxy Rubber & PVDF (Teflon) lining.
Actuation
Hand lever for ON / OFF; Notch Disc with lever for Throttling, Worm gears, Pneumatic Actuators both rotary & linear, single & double acting & Electric actuators. Complete system with solenoid valves, limit switches, positioners with Control panel can be tailormade.
DN
A
B
C
D
H
J
Min
TOP MOUNTING FLANGES
P
Q
Max
Bare
Wt. Kgs.
LxW
H1
H2
PCD
N
d
25
71
56
10
28
25
265
43
4
7
-
-
1.5
130x78
78
205
40
91
56
10
32
25
265
43
4
7
-
-
2.5
130x78
78
345
50
106
101
14
42
30
265
82
4
9
220
285
3.8
130x78
78
345
65
116
101
14
47
30
265
82
4
9
220
285
4.8
188x108
160
415
80
141
101
14
47
30
265
82
4
9
220
285
6.0
188x108
160
430
100
162
101
16
53
30
265
82
4
9
220
285
6.5
188x108
160
430
125
192
101
19
57
30
265
82
4
9
220
285
8.0
188x108
160
480
150
218
101
19
57
30
265
82
4
9
220
285
10.5
276x157
162
570
200
271
150
22
59
39
300
125
4
13
220
285
19
276x157
162
630
250
328
150
30
69
39
400
125
4
13
315
335
23
356x214
222
745
300
375
150
30
79
39
400
125
4
13
315
335
46
356x214
222
860
350
438
150
30
79
50
125
4
17
365
465
56
356x214
222
895
400
481
150
40
101
60
125
4
17
365
465
85
400x276
285
1060
450
542
201
50
114
60
165
4
22
365
465
95
400x276
285
1225
500
598
201
50
127
60
165
4
22
450
465
140
551x355
355
1300
600
712
309
60
149
90
254
8
22
525
475
180
-
-
-
700
834
309
60
170
90
254
8
22
-
-
-
-
-
-
750
880
329
60
170
90
254
8
22
-
-
-
-
-
-
800
945
320
75
189
120
254
8
22
-
-
-
-
-
-
900
1040
329
75
205
120
298
8
22
-
-
-
-
-
-
1000
1180
389
120
216
153
298
8
22
-
-
-
-
-
-